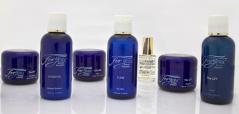 Price: $385.00
The ULTIMATE in skin care for the lady who demands more from life and enjoys the luxuries of life. The ULTIMATE luxurious daily skin care program that cleanses, nourishes, moisturizes, and protects your skin.
The ULTIMATE NDO Collection includes:
CLEANSE NDO
TONE Dry Skin
To cleanse, tone, and refine skin naturally with no harmful agents.
The LIFT Conditioner
The LIFT Powder
The LIFT Liquid
MINKCEL Oil of Mink
An anti-aging treatment that provides a facelift within 20 minutes after application.
Diminishes the appearance of fine lines and wrinkles.
Infused with rich nutrients that support skin firmness and elasticity.
HYDRATE Moisture Balancer is designed to hydrate, lock in moisture, and protect skin from environmental elements with the unique ingredient NMF, Nature's Moisturizing Factor, found only in HYDRATE Moisture Balancer.

For added benefit, ForYou recommends ReCell Rx Apple Stem Cell Formula, a Swiss formulation, to achieve optimal results!

Products sold individually for $401.00 available for $385.00.