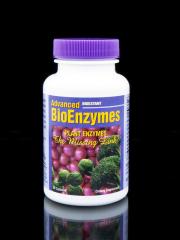 Price: $46.00
What You Need to Know:
Enzymes enable the human body to digest and absorb nutrients in food, and maintain all internal organ functions including: cell repair, anti-inflammatory detoxification, metabolism, improve immunity, generate energy, and promote blood circulation.
The chemical reactions that keep us alive--our metabolism--rely on the work that enzymes carry out.
Enzymes are produced naturally in the body. Enzymes can be found in fruits, vegetables, and other foods. Dietary enzymes are also available in pill form as supplements.
---
---




Ingredients: 90 servings per bottle

Protease, Amylase, Lipase, Cellulase, Lactase,

Papain, and Bromelain. In a base containing: Barley Grass,

Broccoli, Brussel Sprouts, Cabbage, Wheatgrass, and Alfalfa

These statements have not been evaluated by the Food & Drug Administration. This product is not purported to be a drug and is not intended to diagnose, treat, cure, or prevent any disease.