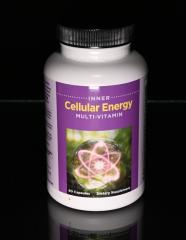 Price: $49.00
Inner Cellular Energy Multi-Vitamin is a complete multi-vitamin, multi-mineral formula containing antioxidants, enzymes, B-complex, mineral and trace mineral co-factors, Vitamin D, and Vitamin E for complete nutritional support.
Contains a powerful antioxidant, Ginkgo Biloba, that crosses the blood brain barrier and helps to increase circulation.
Helps control homocystine in the blood.
Provides essential nutrients that are unavailable in today's diet.
Yellow coloration in the urine is evidence that Inner Cellular Energy Multi-Vitamin has been absorbed in the system.
---
---
Ingredients: 60 capsules per bottle
Vitamin A (Beta Carotene), Vitamin A (Acetate), Vitamins
(C, D-3, E (natural), B-1, B-2, B-5, B-6, B-12, K), Niacin,
Folic Acid, Calcium, Magnesium, Selenium, Manganese,
Chromium, Potassium Aspartate, Molybdenum, Biotin,
Iodine, Zinc, Betaine HCL, Bioflavanoids, Ginkgo Biloba
(standardized), Fiber Blend: (Oat Fiber, Psyllium Seed
Husks, Citrus and Apple Pectin), in a base containing:
Schizandra, Sarsaparilla, Echinacea, Guarana, Garlic, Fennel,
Dandelion, Kelp, Watercress,Papaya, Protease, Amylase,
Lipase, and Cellulase