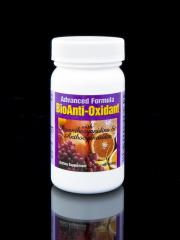 Price: $39.00
What You Need to Know:
Free radicals are highly unstable molecules that are naturally formed:
when you exercise,
when your body converts food into energy, and
when your body is exposed to environmental sources, such as cigarette smoke, air pollution, and sunlight.
Free radicals can cause "oxidative stress," a process that can:
damage your cells and DNA,
play a role in a variety of illnesses and negative health implications, and
contribute to the aging process.
Antioxidants are man-made such as dietary supplements or natural substances such as certain vegetables and fruits that may:
prevent or delay damage caused by free radicals,
protect and reverse some of the damage, and
boost your immunity.
ForYou offers Advanced Formula BioAnti-Oxidant to aid in the fight against free radicals.


---
Ingredients: 60 servings per bottle
Alpha Lipoic Acid, Grape Seed Extract, Bilberry,
Citrus Bioflavonoids Complex, Bromelain, Rutin,
Hesperidin Complex, and Lycopene
---
These statements have not been evaluated by the Food & Drug Administration. This product is not purported to be a drug and is not intended to diagnose, treat, cure, or prevent any disease.