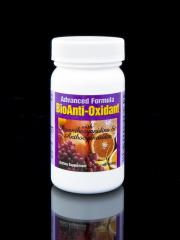 Advanced BioAnti-Oxidant
Antioxidants are intimately involved in the prevention of cellular damage--the common pathway for cancer, aging, and a variety of diseases. ForYou's Advanced BioAnti-Oxidant--a very potent antioxidant!
50 times more powerful than Vitamin E.
20 times more powerful than Vitamin C.
Fights free radicals in the blood stream.
Strengthens blood vessel walls.
Stimulates collagen-rich connective tissue.
Helps body resist inflammation.
Helps maintain proper joint health.


---
Great Support For:
Allergies, Arthritis, Blood Pressure, Cholesterol,
Diabetes, Digestive Problems, Fibromyalgia, Gout,
Hypertension and Circulation, Pain, PMS and Menopausal
Symptoms, Prostate Problems, Sexual Stamina, and
Weight Loss
---
Ingredients: 60 servings per bottle
Alpha Lipoic Acid, Grape Seed Extract, Bilberry,
Citrus Bioflavonoids Complex, Bromelain, Rutin,
Hesperidin Complex, and Lycopene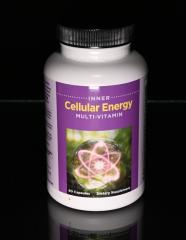 Inner Cellular Energy Multi-Vitamin
Inner Cellular Energy Multi-Vitamin is a complete multi-vitamin, multi-mineral formula containing antioxidants, enzymes, B-complex, mineral and trace mineral co-factors, Vitamin D, and Vitamin E for complete nutritional support.
Contains a powerful antioxidant, Ginkgo Biloba, that crosses the blood brain barrier and helps to increase circulation.
Helps control homocystine in the blood.
Provides essential nutrients that are unavailable in today's diet.
Yellow coloration in the urine is evidence that Inner Cellular Energy Multi-Vitamin has been absorbed in the system.
---
Great Support For:
Arthritis, Cholesterol, Diabetes, Fibromyalgia, Gout,
Hypertension and Circulation, Lack of Energy and
Fatigue, Pain, Promoting Mental Clarity and
Concentration, Prostate Problems, Sexual Stamina,
Stress Reduction, and Weight Loss
---
Ingredients: 60 capsules per bottle
Vitamin A (Beta Carotene), Vitamin A (Acetate), Vitamins
(C, D-3, E (natural), B-1, B-2, B-5, B-6, B-12, K), Niacin,
Folic Acid, Calcium, Magnesium, Selenium, Manganese,
Chromium, Potassium Aspartate, Molybdenum, Biotin,
Iodine, Zinc, Betaine HCL, Bioflavanoids, Ginkgo Biloba
(standardized), Fiber Blend: (Oat Fiber, Psyllium Seed
Husks, Citrus and Apple Pectin), in a base containing:
Schizandra, Sarsaparilla, Echinacea, Guarana, Garlic, Fennel,
Dandelion, Kelp, Watercress,Papaya, Protease, Amylase,
Lipase, and Cellulase